In this article, you will learn how to communicate better with your team.
They say a picture is worth a thousand words, and in today's digital world this is undoubtedly true. Visual communication is vital for effective team communication and the visibility of your brand. Words alone are not the best way to communicate, and in many cases, they can make it hard to get the message through. Using emails for team communications doesn't always yield better productivity for senders and recipients. But there are far better solutions for addressing this issue.
Use visual assets and communicate effectively with your team
Visual assets like screenshots, screencasts, and file transfer are some of the ways you can explain ideas and share clear feedback with your clients and colleagues. For example when you have to report an issue: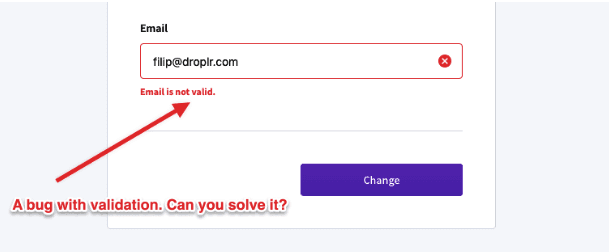 Or you want to give feedback on a new website design: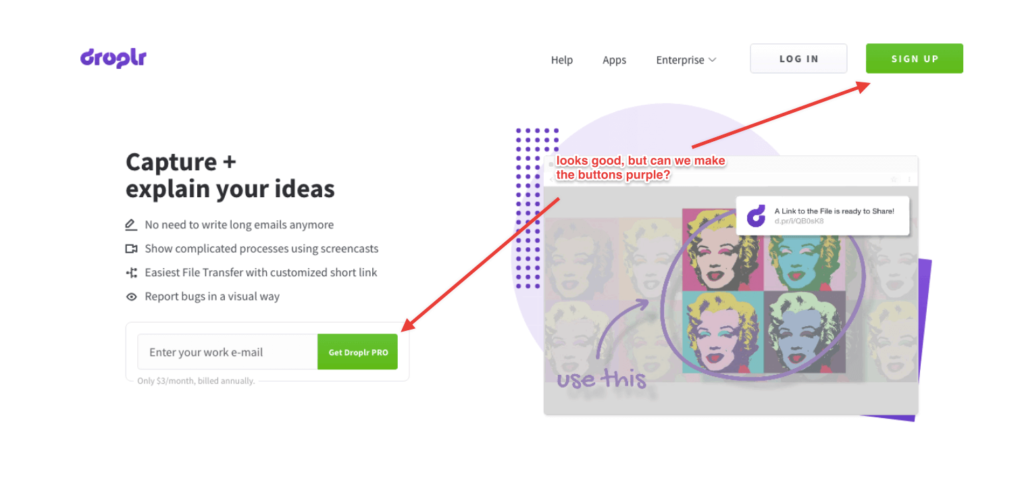 Problems with transferring large files
Skype, Slack, and Hipchat have definitely revolutionized internal communications, and they are among the most popular workplace apps. Instead of long chains of emails or one-off conference calls or video chats, creative teams can share ideas and concepts in real time.
But there's still something left to be desired when it comes to sharing files and screenshots in these apps. The biggest problem is with storage and file size limits that make file transfer so much harder. For example, the size limit for file uploads is 300 MB on Skype, 1 GB on Slack, and 50 MB on Hipchat.
What if sharing a screencast of a new idea or high-quality images on Skype and Slack was just as easy and convenient as actually using Slack? Well, it can be — with Droplr.
Droplr's primary goal is to help you share information across distances by tapping into the potential of visual elements.
Chat integrations
Droplr was built to improve the way you work and how you communicate with your teammates. A big part of that is native integration with the apps that your team is already using, like Slack, HipChat, Basecamp, and many others.
Just paste a Droplr link into the chat, where it will automatically generate a file preview, showing the image in-line with the rest of the chat. You won't have to bother with saving and uploading individual files or using third-party hosting services.
All you need to do is:
Use either the Droplr desktop app or Chrome extension to capture the image and drop it into the chat for everyone to see. If you want to share something besides an image, you can easily transfer files as big as 10 GB. Just drag and drop your file to the Droplr icon in your menu bar, or select the 'Upload File' feature in the Droplr app.
Your file will be uploaded to your personal workspace, and a link to it will be copied to your clipboard. Paste the link into Slack, HipChat, Basecamp, or anywhere else you want to share it. The feature works really well for communicating with remote teams and clients, and it's a quick way to pass links back and forth.